PHOTO LONDON X NIKON EMERGING PHOTOGRAPHER AWARD 2021
With the support of Official Partner Nikon, Photo London will continue its Emerging Photographer of the Year award at the 2022 Fair. The work of last year's winner Heather Agyepong together with shortlisted
work by Almudena Romero (Fisheye Gallery) and Alia Ali (Peter Silem) will be shown at the Nikon space. Alongside a full programme of workshops and talks, Nikon plan to create their own comprehensive digital section of the Fair, covering all aspects of digital imaging making to form an innovative and engaging addition to the Fair.
Picturing Black Girlhood: Moments of Possibility
Exhibit Date 17th Feb - 2nd July 2022

Express Newark
54 Halsey Street
Newark, NJ

PICTURING BLACK GIRLHOOD: MOMENTS OF POSSIBILITY, is an international exhibition that features more than eighty Black women, girls, and genderqueer artists—ranging in age from 8 to 94—who work in the mediums of photography and film and have a sustained practice exploring the theme of Black girlhood. By bringing together iconic image-makers, emerging artists, and young photographers (over half the artists in the show are under 18), the show considers Black girlhood as an essential stage of development, an integral moment of political awakening, an embattled site of representation, and a critical source of artistic inspiration around the world.
Picturing Black Girlhood: Moments of Possibility was curated by Scheherazade Tillet and Zoraida Lopez-Diago.
Exhibition Hours: Monday, Tuesday, Wednesday 12-5 pm, Thursday 12-8 pm, Saturday 12-5 pm. Admission is free.
Photo Vogue Festival 2021 • Reframing History
Photo Vogue Festival is Base Milano, open every day from 11am to 9pm CEST from the 18th until the 21st of November (except November 18th : 3 pm - 9 pm CEST). The entrance is free and no invite is needed.
For its 6th edition, titled REFRAMING HISTORY, we wanted to explore the projects that have reclaimed an alternative, different way of telling a tale. From projects that reframes omitted, forgotten and overlooked historical figures to works that reclaims an idea of beauty that has been diminished, stereotyped or exoticised. Helping in achieving what Chinua Achebe called "a balance of stories" is one of the founding missions of Photo Vogue, Vogue's global photographic platform that this year celebrates its 10th anniversary.
This exhibition features 35 photographers selected through the Open Call on Photo Vogue, Picter and Instagram. On Picter alone we received 24.913 images, 2.949 projects by 2.513 photographers from 98 different countries, 6 continents.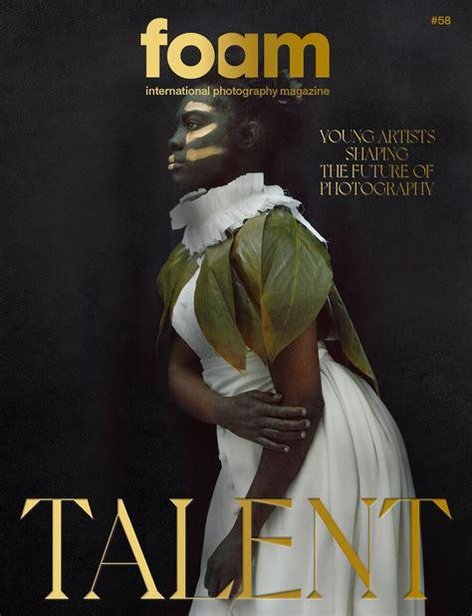 Following the award-winning first edition in 2020, Foam presents a brand new online exhibition celebrating a new generation of image-makers. Foam Talent 2021 | Digital is a multi-media platform showcasing the work of 20 artists that were selected through the annual Foam Talent Call. Their projects are translated into the digital realm, supported by audio, video and interactive elements. Liberating the photographs from their frames and taking them beyond the museum walls, the exhibition pushes the boundaries of the medium and explores the outlines of its future form.
PhMuseum Days 2021
23-26 September
Bologna, Italy
International Photography Festival
10am - 11pm
23 - 26 Sept
Binario Centrale, DumBO
Via Camillo Casarini 19. 40131 Bologna
Collective Show at PHmuseum Days 2021

These images will take part in the A New Beginning collective installation, which is part of the official exhibition's program together with the festival's individual shows.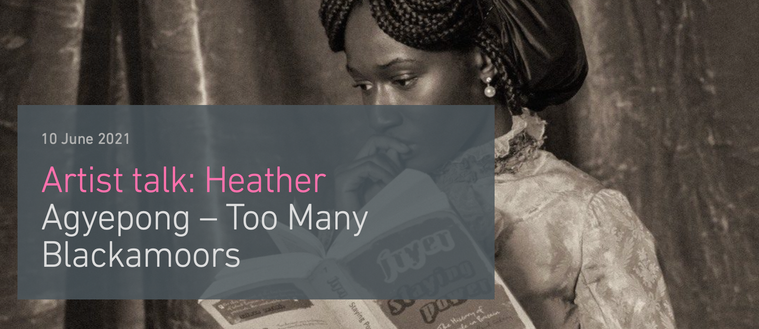 Artist Heather Agyepong talks about her series of work "Too Many Blackamoors" for the Bristol Photo Festival and explores who is remembered in our history.
19 Chapel Street, Derby, County, DE1 3GU
17th May to 18th July 2021

The FORMAT21 Open Call received over 800 submissions from 66 countries and a small selection of the 50 selected projects will be shown at Deda. Exploring the many manifestations of the festival theme – Control, the work of LeiLei, Anouchka Renaud-Eck, Tami Aftab, Juan Orrantia and Heather Agyepong look at the struggle for control in the personal and political spheres.
Features Wish You Were Here
Digital Exhibition: Selected Open Call Artist
12 March – 5th March 2023
FORMAT21 Online will present exhibitions, events and visitor participation throughout the festival. The exhibitions include over 160 international artists and a selection of the 40,000 images submitted from over 90 countries from the #massisolationFORMAT archive created during the Covid-19 pandemic.
You will be able to access the digital FORMAT21 exhibitions on any desktop or mobile device in your web browser, without registering, downloading or configuring anything.
A simple set of instructions and a phone, tablet, laptop of PC are all you need to enjoy FORMAT21.
Features Wish You Were Here
Arnolfini
16 Narrow Quay
Bristol BS1 4QA
Tuesday 18th May 2021 to Sunday 13th June 2021
A Picture of Health is a group exhibition of eleven contemporary women photographers from The Hyman Collection who have responded to subjects of health and wellbeing. Featuring autobiographical perspectives to social commentaries on wider society, the exhibition touches upon a variety of timely subjects, as those throughout the world are united by the effects of the current global pandemic.
Exploring what lies behind the camera's exposing eye the exhibition explores themes of trauma, from physical to psychological effects; environment, asking how the people we live with and the places in which we live affect our health and wellbeing; and care, considering the dynamics between the carer and those that are cared for.
Features Wish You Were Here
Memorialization in the Age of Forgetting
Bristol Museum & Art Gallery, Queens Rd, Bristol BS8 1RL
17th May 2021- October 2021 TBC
Artists Heather Agyepong, Jessa Fairbrother, and Lua Ribeira have been invited to take part in collaborate with Bristol Museum and Art Gallery. The artists' own work will be displayed alongside and juxtaposed with the Museum's collections and archives.
Features Too Many Blackamoors
September 10, 2019 - July 18, 2021 - Digital Walkthrough Available
Mead Art Museum, Amherst College, Massachusetts.
Drawn from museum purchases and an extraordinary recent gift of 172 contemporary artworks from an anonymous donor, this exhibition builds on the Mead's first and most comprehensive contemporary art exhibition, presented in fall 2019. Spanning four decades, from the 1980s to 2019, the exhibition highlights how artists experiment with media and use historical events, ideas, and images to address politics and the nature of art. Featured artists include Heather Agyepong, Moira Dryer, Mark Fox, Al Hansen, Analia Saban, and Paul Mpagi Sepuya.
Features Too Many Blackamoors
Virtual Exhibition
Digital interventions of artistic contributions and responses to the COVID-19 Pandemic by Women Artists
Features Wish You Were Here
Open Call Selected Artist
Worthing Beach Seafront
Till Spring 2021
In-venue
Operating within up-to-date social distancing guidelines, over 20 self-curated exhibitions, together with presentations of work curated from open call, are showing throughout October in galleries, pop-up venues and outdoor installations in Brighton & Hove and along the coast in Worthing.
Features Wish You Were Here
Coming in 2021

The Body Remembers is a solo performance that uses movement, projection, and a series of audio testimonies created and performed by Heather Agyepong, co-created by Imogen Knight (movement) and Gail Babb (dramaturgy).
The technique of Authentic Movement has allowed Heather to process what her body has been trying to communicate for years and most importantly brought gentle attention to the self. Authentic Movement consists of the mover and the witness. The mover without restriction, through impulse, reclaims space. The witness observes, reflects, and notes what is happening in their own bodies.
The Body Remembers creates a space for audience and artist to attend to themselves and each other through authentic movement, testimonies from 20 Black women living in the UK, soundscapes, and projections. The piece focuses on the six parts of her body that speak the loudest; head, throat, heart, stomach, womb, and hands.
Solo performance for a socially distanced audience in a theatre in Bristol / London.
The Body Remembers is produced by Fuel, with support from Arts Council England, Wellcome Trust, and the Jerwood New Work Fund.